GPS LBS Overview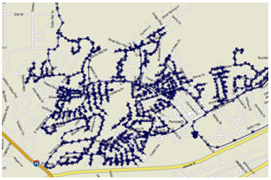 AIRmobility® client and server side functions work together to make for a complete end-to-end location based service (LBS) fleet management tracking system. Some of our accounts today simply use a lighter version of AIRmobility® to do just that.
GPS data (LAT, LONG, DATE, TIME, USER) is captured as tight as ever 5 seconds and is collected to be batch processes over your wireless network to our AIRmobility® servers. The data is then analyzed and displayed with (see all screen shots below):
Street Address (reverse geo-coding)
Directional information
Speed statistics
Start Times
Stop Times
Bread crumb trails
On-the-fly mapping to our mapping servers
Color selection of users to differentiate before mapping
These capabilities noted above can be demonstrated immediately with our technology. Click on:
AirMobility Demo
if you have a compatible handset with service. Contact
Technical Support
if you need any additional assistance.
Custom work can include (but not limited to):
Geo-fencing ( breaching or not breaching)
Advanced math (how long in geo-fence, miles driven).
Symbols, text, photo pop ups on maps, etc.
CIPS Marketing Group, Inc
Uses extensive use of AIRmobility® GPS tracking capabilities with over 50 different features and functions to help them track drivers and delivery personal across the United States. The organization distributes over 500,000,000 promotional and product samples in the United States direct-to-door every year. See:
Case Studies
Video
Overview of users being tracked include number of fixes, last known fix, the ability to map more than one user on a map and a color selector to differentiate each driver when plotting bread crumb trails.

By clicking on the handset number, you can drill into the raw data of each user. This data will provide user name, dates, times, LAT, LONG, address conversion and the ability to export this data instantly into a MS XLS format spreadsheet right from the server. Data is color coded to show moving times, stop times and start times including the average speed noted between coordinates: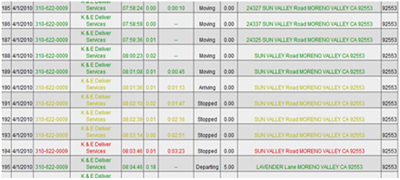 High level view of user mapped in a blue bread crumb trail: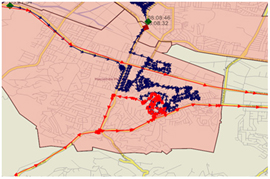 Lower level view of driver in concentrated work ( street view). Note the arrows show general direction in which the user is traveling:
This view imports changing geo-fence information (noted in a pink screen), and allows this customer to combine both a driver (noted in blue) and a quality control person (noted in red) to be combined on the same map. This is used as a proof of performance tool for our customer CIPS Marketing, Inc.
Other custom uses of maps can include plotting fixed locations, color coded for a specific purpose with tags and driver routes.
Please
Contact Us
directly to learn more about our GPS and mapping capabilities or complete our
Needs Assessment
form today.