AIRmobility

AIRmobility® is a SaaS (Software as a Service) Field Labor Automation platform designed to help business of any size realize the best possible return on their mobile workforce investments.
Supporting over 1000 functions and 25 years in the field labor automation industry, our technology is used today in just about every industry and industry segment across the globe. We support an easy-to-use, easy to set up and easy to support platform driven by our iconic icon design.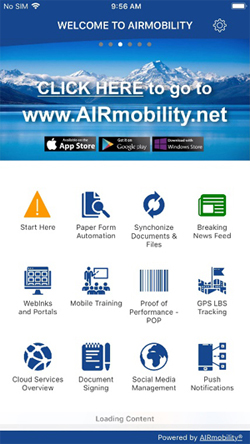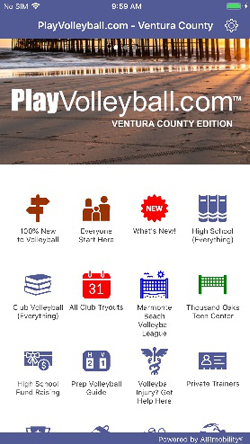 As a first step, we encourage every potential customer to download from the Apple store, Android Play Store or Windows Store: AIRmobility. We have used our own software to create a comprehensive demo on our technology using our technology.
Customers use AIRmobility® to:
Convert paperwork (time cards, inspection forms, work orders, delivery orders) to wireless
Track their mobile workforce using GPS ( geo-fencing, time card, mileage tracking, speed tracking)
Synchronize documents with their mobile field labor teams.
Build custom link portals
Engage their workforce with our custom breaking new feeds
Back office integration data being collection to an internal proprietary database or commercial 3rd party product ( automating job assignments to wireless handset and collected data back to the same system)
Analyze data being collected with PDF ready reports, exporting to MS Excel and turn-key ready dashboards with pie charts and bar graphs
Implement multiple automated escalations and notifications based off of criteria based rules from data collected.
Implement multiple automated escalations and notifications based off of criteria based rules from data collected.
Westlake supports a dedicated site for
AIRmobility®
at
http://www.AIRmobility.net.
This includes your ability to request a free account, download handset software for you mobile device and fully test virtually all of our capabilities from end-to-end.
Large Organization Implementations:
Blue Cross sales force using AIRmobility® to track sales services to Doctors
MGM casino host services using AIRmobility® to make on-the-fly reservation change request forms
Shell Oil using AIRmobility® to track competitive gas price changes automated to their back office systems
Mid-Sized Business Implementations:
USI Services using AIRmobility® a wireless inspection form analyzing maintenance and cleaning at multiple large national retail management chains
Regional Gas Company automating OSHA compliance forms around gas and oil excavation and refinement
Small Sized Business Implementations:
Got Graffiti using AIRmobility® to track and manage graffiti clean-up in and around San Francisco; shares tracking photos with police department
City wide elevator repair company using AIRmobility® for automated job assignment, tracking maintenance and repair, fully integrated back office solution.
Next Steps:
Please
contact us
directly for more information, test drive
AIRmobility®
basics at
www.AIRmobility.net
, or complete our
needs assessment form
.